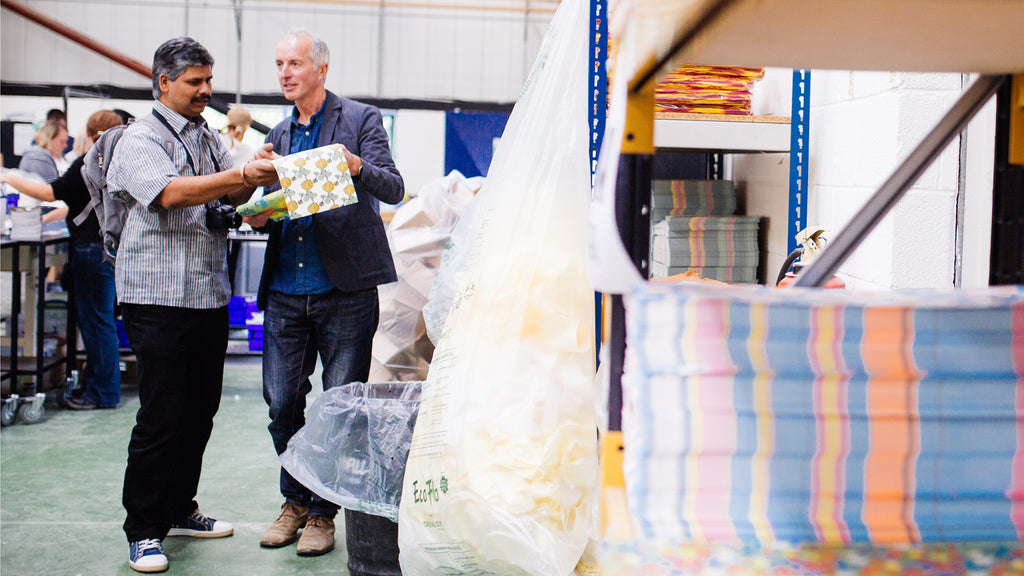 Handmade paper from India
Want to know more about our reusable and recyclable wrapping paper? We chatted to Srikumar and Nigel from Khadi Papers in India about the cotton rag paper that we use to wrap many of our gifts.
Where is Khadi Papers based? Could you describe what it's like to work there?
Khadi Papers is based in Karnataka, India, outside the city of Hubli. It has a population now approaching a million – which in Indian terms is not considered that big. The factory is in a rural area just outside of the town, as we needed somewhere with electricity, which was also accessible by road. All our workers come from the nearby villages of Tarihal, Rodihal, and Kanavappur.
It's a great place to work, with a real mix of communities - Muslim, Hindu and Daalit. Everyone gets along really well.
How does Khadi Paper help the local community?
We mainly help people through generating employment, as this is the most important goal of industry in India. Sustainability is the key, and it's not just a handout; it provides regular, assured income day after day, year after year. It means that families can plan long term and consider things like higher education for their children. We employ a mix of about 60/40 men and women. When women are wage earners they have a higher status and then are given more respect within the community.
We try and offer work to those who want it, though the work requires a lot of skill and training. We provide the training, but most of the time, they learn on their own by seeing and by doing, and if someone likes a particular aspect of the work they can concentrate on that. It's a really lovely place to work.
We also employ many people with disabilities, including some who are deaf. Almost everyone in the factory has now learned sign language.
When did Lush first become involved with Khadi?
We've had a long-standing relationship with Lush. We started with Constantine and Weir [Lush founders Mark Constantine and Liz Bennett's first venture], and then supplied Nepalese tissue paper to Cosmetics To Go. Lush then came to us at a paper fair in Frankfurt, and we re-established the connection.
How is the cotton rag paper made?
We take the cotton off-cuts, cut them into small sizes, and turn them into pulp in a machine called a Hollander beater. The process uses water from our bore well and from rain water capture. The beater separates the fibres, making a smooth, porridge-like pulp, and then the paper is made by pouring this pulp onto a frame covered in a wire mesh. The sheets are dried by hanging them up - just like washing on a line.
What is special about Khadi paper?
All the cotton we use to make the paper is from recycled offcuts from T-shirt factories. Red paper is from red T-shirt cuttings, black paper from black cuttings, and so on. We also use offcuts from the denim factory in Bangalore.
The process is completely organic and without chemicals, so we are able to reuse the same water for irrigation; we grow bananas and coconuts, organic leafy vegetables, tomatoes, beans, aubergines, and mangoes. It's all grown for our employees to take home.
What does the future hold for Khadi Papers?
India is moving at 100 miles an hour – we're almost like a moment of calm in a frantic, ever-expanding economy where everything is constantly changing. The rate of change is phenomenal, urbanisation is rapid and lots of people are moving from villages to large cities. Our aim is to maintain our business, making good quality paper and continuing to provide incomes for the wonderful people who work for us.