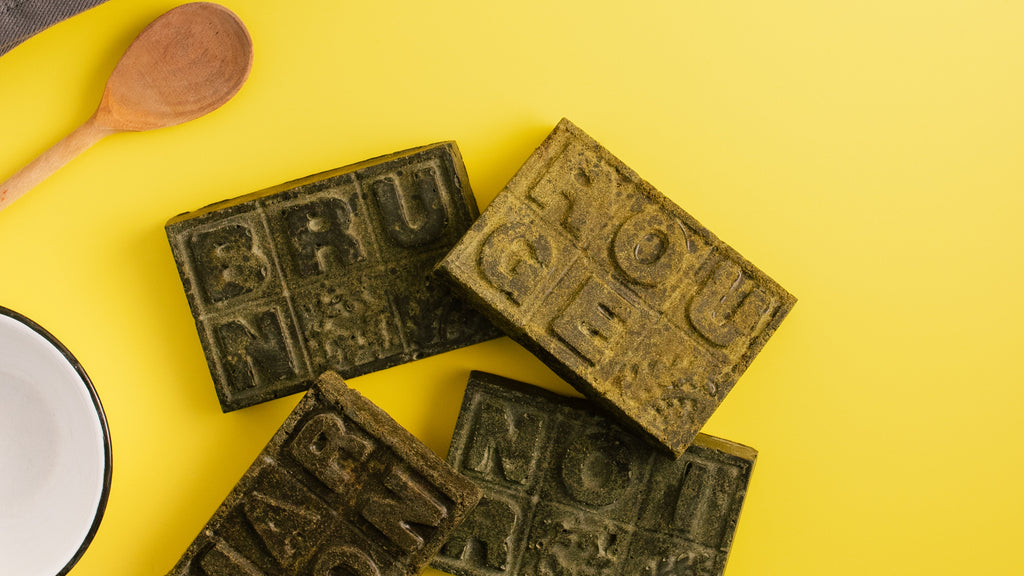 Bricking it: An Introduction to Lush Henna Hair Dye
"There is nothing that will give your hair shine like henna," declares Lush co-founder Mark Constantine, "no treatment, no chemical dye." But while ardent henna enthusiast Mark has been expertly applying herbal hair colour for decades, it was his co-founder Helen Ambrosen who revolutionised how Lush sold henna. 
In 2001, Helen combined powdered henna leaves with hot cocoa butter and invented the henna brick. It was a product inspired by the tea brick: an ancient form of currency that had circulated within Asia for thousands of years, and, in more recent times, around her shared lab with Mark after he procured one on his travels. Lush Ethics Director Hilary Jones drew on henna's similarly long use in ceremonial tattoos to design a brick-shaped mould for the bricks, turning the solid hair dye into a work of art.
The henna brick was infinitely more user-friendly than Lush's previous powder and even ready-made, hot formulas to go. Helen recalls, "They made the shop smell beautiful but they didn't sell very well. I tried to make the henna more visual, so I did the pressed cocoa butter mould overnight. Even back then we were on a real mission to make everything that we could solid."
Mark remembers the years of pre-mixed henna formulas less fondly: "That was a rubbish idea, wasn't it?"
Nearly two decades later, he still raves about Helen's invention: "Adding cocoa butter to the henna so that it melts when you add water and turns into this lovely creamy base was just sublime. It's unpackaged and unpreserved; the cocoa butter makes it easier to comb and get the henna out. The simplicity, the clarity, the nod to history are all exquisite in my opinion." 
Lush's use of henna was derived from Mark's distrust of synthetic dyes after training as a hairdresser and trichologist, combined with his passion for the benefits of henna on the hair. Permanent synthetic dyes contain ingredients that penetrate the hair cuticle, attack the melanin inside, and form large colour chains that are too large to exit the cuticle. As well as generating health concerns including allergy and even cancer, the invasive process also damages the hair. Henna works in a different way. Mark explains, "The active ingredient in henna, lawsone, adheres to the outside of the hair in a translucent way so the hair shines through. It adds body, thickness, and shine." 
Such was Mark's expertise in herbal hair colouring, that he wrote a book on it for The Herb Society, Herbal Hair Colouring in 1978. Decades later, the four henna bricks Lush currently offers (Rouge, Brun, Marron and Noir) each contain unadulterated Iranian henna for its high-quality colour, and a crop of carefully chosen essential oils for their antimicrobial powers and fragrance. Noir and Brun also contain a generous mix of indigo - another ancient, much revered natural dye to create darker shades.
Mark recommends applying Ultrabland or Ultrabalm around the hairline, breaking the entire henna brick up with a knife and gently blending with very hot water. When the mixture is thick and creamy, use a brush or hands - preferably a friend's - to apply to dry hair. "Applying to the roots first, from the bottom upwards, enables a more even application," Mark instructs. "The ends of the hair are more porous so will take up the colour quicker."
Wrapping your head in a towel to trap the heat will bring out red tones, but if you prefer a darker shade from your Noir or Marron application, leave your hair unwrapped. Mark advises: "Take a steamy bath, put the kettle on; it all helps the oxidation of the indigo which carries on up to three days after its applied."  After a couple of hours, shampoo thoroughly with hot water to remove. 
Mark's enthusiasm for the stuff is infectious. "Sometimes, I'd still love to earn my living just hennaing hair," he confesses. 
Curious? Find the answers to all your common henna questions here or dive deeper into the story of Lush's colourful history with henna hair dye.
Catch this article and heaps more in the new upcoming Lush Times newspaper: A celebration of 25 years of product history.