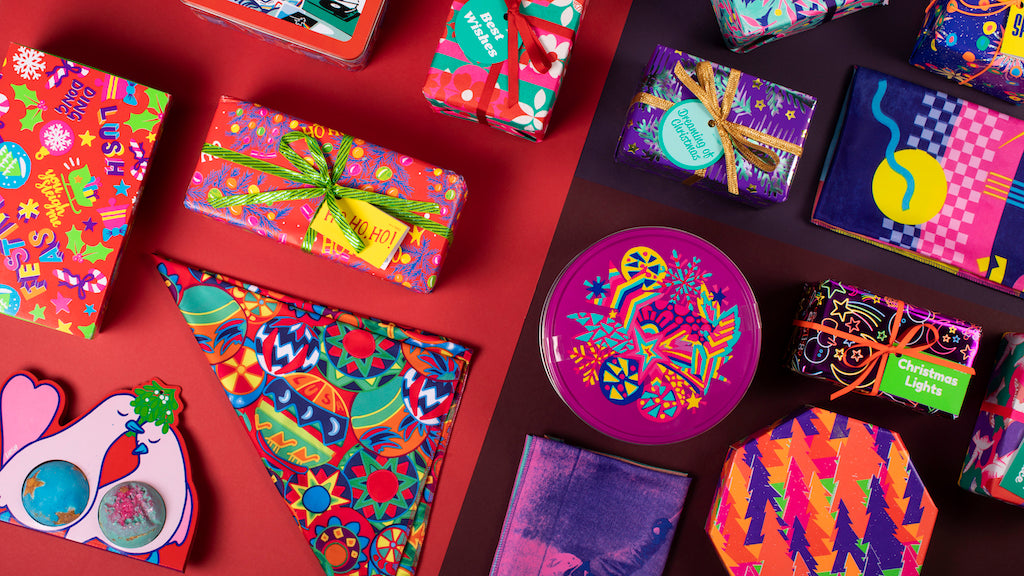 May We Present: Eco-friendly Gift Ideas
Picking eco-friendly gifts that suit personalities might seem like a tough task. Take a look beyond the present, and it might all fall into place…
Christmas gifts, birthday gifts, thanks-for-looking-after-the-dog gifts - it's hard to know where to start. But there's one rule we all know when it comes to gifting - it has to be something meaningful. So, how do you find the right gift to match your best bath-loving buddy's passions?
Every gift has a story. That could be wrapped up in the reusable packaging, like the communities and artisans who make the Knot Wraps, ribbons, and natural papers. It could be the ingredients that regenerate social and eco-systems. We've unwrapped the recycled paper, lifted the lid on the collectable tins, and dipped into the stories behind Lush gifts, to find the right gifts to match what people care about.
A gift for nature, and for nature lovers
For green-fingered friends who love the great outdoors, how about a gift wrapped up in a revolutionary paper that puts people and the planet first?
When it comes to Best Wishes, what's on the outside counts. The banana fibre wrapping paper is made from waste organic banana tree stems in Zambia, which would otherwise be thrown away. This means there's no need to cut down yet more precious forest, and that the banana farmers have another source of income.
Halfway across the world in Nepal, another nature-friendly paper is made, ready to wrap itself around Cosmic gift and become Lokta wraps. Lokta, an evergreen shrub, is a completely renewable resource. Using traditional knowledge, the plants are cut in a way that allows them to regenerate and re-grow. The social enterprise that makes the paper was originally set up as a social programme for marginalised women in the area. 
All hail the reduce, reuse, and recycle champions
For the make-do-and-mend friend who turns their back on single-use packaging and instead uses bags, boxes, and containers again and again, why not introduce them to Knot Wraps? Inspired by the Japanese art of furoshiki, Lush has been Knot Wrapping since 2009. With a few knots and folds, these squares of beautifully decorated material can be used as reusable gift wrap, scarves, bags, picnic blankets… the possibilities are endless! Pop a few naked products or soaps inside a Knot Wrap, and you've got yourself a waste-free gift that keeps on giving, and cuts out the need for wrapping paper.
Some of our organic cotton Knot Wraps, like Snow Fairy, have a regenerative story that starts in India. The cotton is grown organically using traditional methods that cut down on water usage, before becoming works of art at the talented hands of re-wrap, a social enterprise empowering women in India, and focussing on environmental and social change. Others, like Lush World, are spun from recycled plastic bottles.
Not sure what to choose? Twilight gift is packed full of calming lavender treats like Sleepy body lotion and Twilight bath bomb, all wrapped up in an exclusive Knot Wrap. Sweet, eco-friendly dreams are made of this.
Keep techies 'appy
If you've got a tech-savvy friend who's right on the digital pulse, a Lens gift could be your answer.
In an effort to find an alternative way to label products, and reduce packaging even further, Lens gifts have been stripped of their ribbons and tags, making them perfect for those who want to cut down on their waste and be part of a new tech solution.
To take a peek inside the package, download the Lush Labs app, open up the Lush Lens feature, and scan the gift with your phone. You can see what's inside, and the stories behind the packaging.
Happy Daze is a groovy little gift packed with vegan bath bombs and bubble bars, all sealed up in a reusable box. If you're after something seasonal, why not tech the halls with Festive As gift, packed with comforting bath treats.
From one upcycler to another
Got a friend who's partial to a bit of upcycling? Then they might appreciate a present wrapped in upcycled material. A group in India makes cotton rag paper from t-shirt off-cuts, without using any extra dyes. Some of the off-cuts even come from re-wrap, a women's cooperative that makes some of Lush's organic cotton Knot Wraps and bags.
Rosie gift is packed up in beautiful recycled cotton rag paper, which your upcycling buddy will no doubt give yet another lease of life in a future craft project. The rose oil and rose absolute that go into the products are sourced from Senir in Turkey, where there's a long tradition of rose harvesting, and where both locals and Syrian people who have sought refuge in Turkey pick the flowers every May.
A gift for ocean worshippers
For surfers, sailors, or wannabe merpeople, keeping the ocean free of plastic is a top priority. There's a whole heap of single use plastic-free gifts you could choose from, but Turtletastic might just take the crown.
This is a gift packed with naked products to help cut down on excess plastic. Seanik shampoo bar isn't only packed with seaweed and sea salt, it's also a great way to eliminate plastic shampoo bottles. Pop it in the carbon-positive Cork Pot and you've got yourself a match made in plastic-free heaven.
The ocean-inspired reusable box is designed by Arthouse Unlimited, a charity that represents and supports artists who live with learning and physical difficulties.
Something collectible
You'll have got the sense by now that our recycled gift boxes are created with reusability in mind. But if you want to gift something that'll really stick around, we've got just the tin for you.
Karma gift starts life as a vintage-inspired tin packed with the classic Karma perfume, Karma Kream body lotion, and Karma soap. That's a lot of good karma. But once you've lifted the lid, inhaled the Bohemian patchouli and orange oil fragrance, and finally used up the last of the products, there's a whole new life for this gift. Your tin could go on to store baked treats, collectibles, or perhaps more Lush goodies.
Bathers gonna bathe
For the real bathing enthusiast, what's inside the box counts. 
You can't go far wrong with The Art of Bathing gift, featuring 17 vegan bath treats all tucked up into one recycled, reusable box featuring vibrant artwork to rival your bath art. For a little more festive cheer, The Art of Christmas Bathing gift has got you covered.
If you want to explore further, why not take a look at more Lush gifts? And remember - thought really does count!