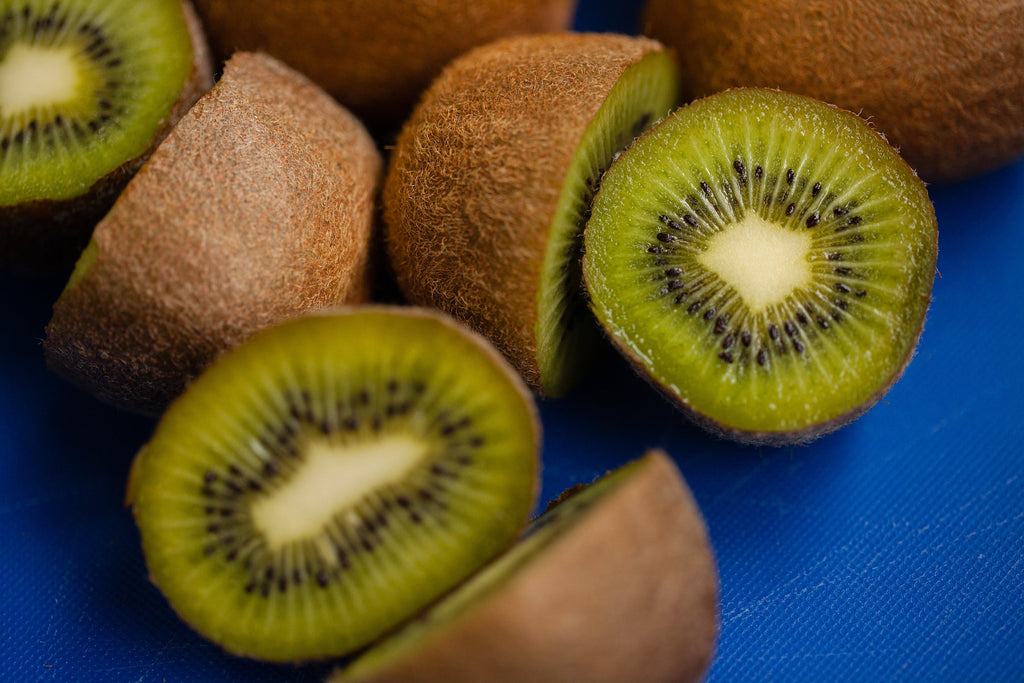 The A-Z of haircare ingredients
Want to lift your locks? Boost your barnet? Add moisture to your mane? Fresh, natural ingredients are a superb way to give your hair some TLC. Here's a handy guide on how to pick the best ingredients to suit your hair's needs and keep your mop looking and feeling magnificent!
Agar agar gel
There needn't be oceans between you and silken hair, begin a seaweed love affair. Agar agar is the gel which comes from drying out a type of seaweed known as agarophyte. When added to boiling water, this creates a rich gel which leaves hair incredibly soft. You'll find this oil-free agent in lighter conditioners such as zesty Veganese and restorative Retread, where it coats each strand without weighing your hair down. Conditioned locks will be plain sailing, so wave hello to a magnificently soft mane which still retains bounce and volume.
Almond milk
Get your daily dose with rich almond milk, full of vitamin E to help moisturise the hair and add shine and softness. In haircare products, this reparative ingredient strengthens every strand, helps to protect your tresses from further breakage and can even slow the natural hair fall process. Almond milk can be found in floral Happy Happy Joy Joy, a beautifully lightweight, yet hydrating and conditioning hair perfume. Strong, resplendent locks await you.
Aquafaba
The elegant name given to chickpea water, aquafaba is a replacement for eggs. Lush went egg free in March 2019, but lucky for us aquafaba shares similar properties to egg whites, including consistency and benefits. It also protects and strengthens fine hair, making it a great addition to H'suan Wen Hua, a deep conditioning hair treatment that also cleanses the scalp.
Argan oil
Embellish each hair strand in sumptuously rich argan oil. Celebrated in haircare, this luxurious ingredient comes from the kernels of the argan tree. In Morocco, the women's cooperative 'Ifrawnlhna' works together to remove the outer shell of the argan kernels, pressing the nuts to produce litres of this restorative oil. Argan oil is rich in nutrients like vitamin E which can help to maintain a healthy scalp and stimulate healthy hair growth. Moisturising from root to tip, it gives shine to the hair and helps tame flyaways for a sleek finish. This beautiful ingredient can be found in Jason And The Argan Oil, a rose scented shampoo bar that brings some serious shine.
Avocado butter
Like avocado on toast? You'll like it even more on your hair! Avocado butter is an all- round winner when it comes to haircare. Jam-packed with vitamin A to help the hair follicles produce a healthy amount of sebum, vitamin B to assist the absorption of essential nutrients, vitamin C, one of the most effective vitamins to help locks grow healthy and vitamin E, effective at increasing blood flow to the scalp for stronger, happier tresses. Protecting the hair strands from damage, this brilliant ingredient delivers nutrients to the very ends of the hair, locking in moisture by sealing the cuticles. You'll find this beneficial butter in R&B hair moisturiser, a rich cream made of a blend of glorious butters and oils to add moisture and shine.
Bananas
Bananas will save you from future hair dramas. These fibrous fruits contain strengthening potassium and vitamin B to improve the hair's elasticity and prevent breakage. Used in Jungle solid conditioner, bananas add some serious moisture to your mane, keeping it under control for manageability. As if that wasn't enough, they also smell delicious too.
Beer
Hardy hair is something worth celebrating. A tipple of vegan stout in shampoo brings body and makes hair more manageable. The protein from malt and hops helps to strengthen fine hair, whilst the sucrose and maltose present in beer strengthen and tighten the hair cuticles for gleaming tresses. This tipsy ingredient is in Cynthia Sylvia Stout, a beer shampoo to give a glistening finish to your do.
Beeswax
When time is tight, hair products full of beeswax are an easy bee-sy way to lock in moisture to each hair strand. Deeply moisturising, this exquisite ingredient can keep hair and scalp happy, soothing any irritation and smoothing. Said to naturally stimulate hair growth, beeswax can slow the hair fall process and protect strands from damage for a more durable mane. Luxurious beeswax can be found in Fairly Traded Honey, a lavish shampoo with lashings of Fair Traded honey for glistening locks.
Cade oil
Console and calm your scalp with aromatic and woody cade oil. Used since the 19th century as a treatment for skin and scalp, this antiseptic, antimicrobial and fungicidal oil can soothe and balance the scalp and has a dark, smoky scent. You'll find it in Soak And Float: a scalp-focused shampoo bar with a heady, yet sweet scent, made to calm the skin and get your scalp back in tip top condition.
Cinnamon leaf oil
Not simply a comforting scent, tingly, stimulating cinnamon boosts blood flow and improves circulation, promoting new hair growth. This antiseptic ingredient has a spicy scent and gives a warming sensation when applied to the scalp in hair treatments or shampoos. New shampoo bar is brimming with invigorating cinnamon, peppermint and clove oil to help your hair bloom from the roots down. Opt for this energising spice to get your scalp back on track.
Cocoa butter
Should you coco? Oh yes. Deeply moisturising, cocoa butter has long been prized for its moisturising properties and will leave hair smooth, sleek and easy to manage. For a quick, travel-friendly option, try Angel Hair, a heaven-sent (and heavenly scented) shampoo bar made to gently cleanse and soften.
Desiccated coconut
A bunch of lovely coconuts (some as big as your head) will soften and infuse hair with a totally tropical fragrance and absorb excess oil for beach-worthy locks. This beneficial ingredient is overflowing with vitamins, minerals and nutrients which will better your barnet. Its antibacterial and antifungal properties mean it supports scalp health, while also leaving hair more manageable. Found in Curly Wurly shampoo, desiccated coconut is a protein powerhouse, strengthening your strands to prevent breakage, lightly exfoliating the scalp and enhancing shine. It's no surprise that the benefits of coconut are bounty'ful.
Ethyl Macadamiate
Often used as an alternative to silicones, this natural ingredient protects hair from heat and humidity without weighing it down. Made up of fatty acids, such as oleic acid, ethyl macadamiate is also softening for the hair. Pick up J's Mom's Okra, a rich, intensive conditioner that will moisturise your hair from root to tip.
Extra virgin olive oil 
It's no secret that olive oil is pretty famous in the hair world. Used in many Lush formulas, it contains some of the most powerful antioxidants in the world and can strengthen the hair. This clever ingredient helps give a sleek appearance to your 'do, while improving shine and locking in moisture. Lush buy extra virgin grade because its extraction process preserves the most nutrients. If you're looking for a plant-powered leave-in conditioner, that is particularly perfect for afro hair, pick up Super Milk. Not only does it protect hair during heat styling, it also provides weightless moisture to the driest of manes.
Fuller's earth
What's up doc? You lookin' for some tough locks? Although easily forgotten, scalp care is an important part of haircare. Treating your scalp well will lead to stronger hair. An absorbent clay, fuller's earth is extremely efficient at cleansing and exfoliating the scalp and absorbing excess oil. It is packed with beneficial minerals such as magnesium, calcium and zinc which condition and add strength to the hair from the root. By increasing blood flow to the hair follicles, fuller's earth can help slow down the hair fall process by boosting the nutrients flow, helping the hair to grow stronger. This enriching clay can be found in Hair Doctor, an indulgent hot oil treatment to balance and calm the scalp.
Green olives
Build stronger hair with the help of green olives. Rich in vitamin E, fatty acids and antioxidants, these juicy fruits are superbly rich and moisturising for the hair. Used in Montalbano shampoo bar to improve the tensile strength and elasticity of the hair strands, green olives protect against damage, meaning hair is less likely to snap when you brush. Go on, flex your hair muscles!
Henna
Hair loves henna! From the Lawsonia inermis tree, this universal product can not only be used as a natural dye, it can also be used as an addition to hair moisturisers and conditioners. For colour, the leaves of the tree are dried and powdered, then used in addition with other natural dyes to alter the shade. Alternatively, a smaller amount can be used as a conditioning agent in treatments, coating the hair strands with a protective film to give them shine, whilst adding body and enhancing natural highlights, without colour. This can be found in Jasmine And Henna Fluff-Ease, a pre-wash treatment which adds a dazzling amount of shine.
Honey
For soft and moisturised locks, choose products that contain honey. A natural humectant, it helps hair to attain and lock in moisture while its antibacterial and anti-inflammatory qualities work to cleanse and calm at the same time. Undiluted honey is also a natural preservative, which means it can last for years and helps to naturally prolong your product's shelf-life. Sunny Day will keep your mane smooth and glossy, countering the static charge which can cause frizz.
Irish moss
Protein-packed and full of vitamins and minerals, Irish moss is a hair enhancing seaweed armed with the tools to give you magnificent locks. When combined with water, it forms a gel that coats the hair, strengthening it and delivering wow-factor shine while providing products with a luxurious texture. Working with sea salt in the solid shampoo bar Seanik, Irish moss gently cleanses the hair and soothes the scalp for satiny, carefree hair which is full of body and vibrance.
Jojoba oil
From the seeds of the jojoba shrub comes jojoba oil, a lightweight oil that protects hair from breakage and helps speed up hair growth by delivering moisture to each strand and cleansing the follicles of excess sebum (skin's natural oil). Jojoba oil makes hair more manageable, strengthens, brings brilliant shine and moisturises deeply without weighing it down, as seen in Retread, a restorative pitstop for hair, where jojoba oil restores moisture.
Kiwi juice
Enzymic kiwi helps to cleanse away excess oil without drying out the hair. High in the minerals zinc, magnesium and phosphorous which help to boost blood circulation to the hair follicles, kiwi strengthens hair from the roots and adds shine by flattening the hair cuticles so that they reflect more light. Additionally, vitamin C supports the scalp in absorbing nutrients, while vitamin E can help to repair damaged hair follicles, promoting growth. Used in I Love Juicy shampoo, citrusy kiwi refreshes your tresses to leave them squeaky clean. Just a squeeze of kiwi makes glossy hair a breeze.
Lanolin
Deeply hydrating, the rich nature of lanolin makes it ideal for thick or very curly hair which needs some extra TLC. Extracted from raw wool, this waxy substance is effective at moisturising the scalp, has a protective quality and resembles our skin's own oil. Used in many hair treatments, lanolin quenches thirsty locks and leaves them feeling ultra moisturised. You'll find lanolin in American Cream conditioner where it coats the hair,  improving tensile strength to prevent breakage.
Lavender
Aside from its bewitching scent, lavender is also brilliant at working in harmony with your hair's needs. Balancing sebum production, it can increase blood flow to the scalp, helping to feed the roots of the hair - the first step towards healthy hair growth. Additionally, dreamy lavender has a calming effect on the mind, helping to reduce anxiety and promote sleep. If you're in search of a lightweight conditioner, try Veganese on for size, this gentle conditioner will ensure your locks stay bouncy and delivers plenty of TLC to the scalp.
Lemon
A lemon twist may just be what your hair has missed. Lemons are full of vitamin C, which makes them a great natural cleanser. They will gently remove excess oil without stripping your hair of the good stuff it needs to stay looking great. What's more, lemons are astringent, which means they encourage the hair cuticles to flatten and reflect more light, giving you shinier hair. This citrus fruit is also used as a natural way to lighten and brighten fair hair. A squeeze of lemon helps bring maximum shine in Big, a shine-enhancing shampoo that will really pump up your hair's volume.
Linseed
Packed with essential vitamins and minerals that are fundamental to happy hair, linseed is both protective and highly moisturising. Vitamin E helps to maintain a balanced scalp, while vitamin C helps increases collagen production which promotes healthy hair growth. High in omega-3 fatty acids and rich in protein, linseed works to strengthen each strand and leave it glossy and hydrated. Try products like Curly Wurly shampoo to see just how beautifully linseed infusion calms the scalp and protects the hair from damage.
Mango juice
Enzymic mango juice helps to cleanse the scalp and hair, improving shine by smoothing the hair cuticles down so that they reflect more light. With a sunny and uplifting scent, mango juice has a cleansing and refreshing effect, leaving you with radiant tresses. It gives hair some bounce, while vitamins E and B12 can help to stimulate hair growth and improve tensile strength. Used in I Love Juicy; a deeply cleansing shampoo with a seriously fruity scent, it works to cleanse away excess oil for magnificent shine.
Neroli oil
Toning and calming for the scalp and hair, neroli is renowned for its fine, sunny fragrance. In fact, it is scientifically proven to increase serotonin production in the brain which makes us feel happy and content, meaning it's the ultimate mood-booster. Lift your hair and your spirits with a spritz of Sea Spray, a fresh and floral hair mist that'll help encourage those beachy waves.
Nettle
Don't worry, although you may think of itchy rashes when someone says nettle, it actually has a balancing effect on the scalp, encouraging new hair growth and helping to reduce hair loss. Lather up with New shampoo bar, where nettle partners up with tingly peppermint infusion to boost blood flow to the roots and stimulate your hair follicles.   
Oat milk
While making yourself a delicious cuppa, add a splash of oat milk to your hair routine to leave your mane feeling soft and supreme. This dreamy ingredient is packed with vitamins A, B and E to keep those locks strong and healthy. It also contains beta-gluten which forms a fine, protective film on the hair and penetrates each strand to deeply moisturise. Oat milk is particularly beneficial for afro hair and a key ingredient in R&B: a beautifully rich moisturiser that will butter-up a thirsty fro and soothe the scalp.
Peppermint oil
Invigorating peppermint has high menthol content to boost circulation, stimulate the hair follicles and leave your scalp feeling tingly-fresh. It's also naturally astringent which helps to regulate the scalp's oil production and can disrupt the hair fall cycle, meaning hair is retained within the scalp for a longer period. Pack on a treatment like Roots to really feel the benefits of this cooling, stimulating herb and give your scalp a thorough MOT.
Pineapple juice
Give your hair and scalp a tropical kiss with enzymatic pineapple juice. When used in shampoos such as Rehab, pineapple juice deeply cleanses and refreshes the scalp, as well as adding shine to the hair.
Rose oil
With a delicate and sweet fragrance, rose oil can be used to balance and soothe the scalp as well as beautifully perfume the hair. Damask roses are picked at dawn in Senir, Turkey, where the oil is then extracted from the rose petals through a process of steam distillation. Try Jason and The Argan Oil shampoo bar and Happy Happy Joy Joy conditioner for a perfectly perfumed 'do.
Rosemary infusion
Take your mind and scalp on a trip to Mediterranean gardens where the precious rosemary herb blooms. This dry herb can be added to boiling water to make an infusion that deeply cleanses the skin and improves circulation to the scalp. Its woody aroma also helps aid relaxation. To give your scalp a really deep clean, opt for Jumping Juniper: a reviving blend of rosemary, lemon and lime to cleanse and impart shine.
Saffron infusion
Embrace the golden tones in your hair with the most expensive spice in town. With its honey-sweet aroma, saffron infusion helps to enhance lighter tones in the hair, meaning it's great for those with blonde or grey hair. This exotic ingredient can be found in Marilyn, a light, pre-wash treatment that boosts your inner bombshell by brightening your locks and banishing brassiness.
Sea salt
For beachy waves all year round why not make a match with sea salt? Coarse sea salt is packed with minerals that occur naturally in sea water and will soften your hair leaving it fuller and bouncier. Additionally, it's full of nutrients to keep your hair and scalp looking and feeling healthy. Hand harvested sea salt, which can be found in Wasabi Shan Kui shampoo, also help to combat the effects of soft water (which can leave hair flat) and promote a shiny, voluptuous, mermaid mane.
Shea butter
Luxurious Fair Trade shea butter from Bolgatanga, Ghana gives softness and moisture to the hair and scalp, moisturising from root to tip. The women of Bongo Soe expertly whip and knead large pans of liquor which form a dense layer of beautiful shea butter ready to feed the hair. To give your hair a really good dose of moisture, opt for Godiva; a conditioning shampoo bar that softens and leaves an enchanting jasmine scent.
Silken tofu
Another seriously great replacement for eggs, silken tofu has a high protein content and heaps of vitamins, making it fantastic for moisturising and improving the condition for the hair. Blending seamlessly into products like Hair Custard, this ingredient supports the smoothing effects of the hair dressing.
Soya lecithin
This fatty acid occurs naturally in soybeans. Lecithin helps to soften your hair, while also encouraging the absorption of other ingredients, leaving you with a happy, healthy mane. Soya lecithin helps flatten hair cuticles to give a smoother appearance to hair, making it a fantastic antistatic. It can be found in products like, Trichomania, a coconut-scented shampoo made to moisturise and smooth tresses.
Sweet orange oil
To revitalise the hair, why not choose a product packed with sweet orange oil? Its uplifting fragrance will leave your hair smelling fresh and zesty. This cheerful ingredient also has enzymic, cleansing effects on the scalp. Honey I Washed My Hair is a honey-rich shampoo bar oozing with orange oil to give vibrancy and gloss to the hair.
Toothed wrack seaweed
Toothed wrack seaweed from Poole Harbour, Dorset, is jam-packed with vitamins and minerals that form a protective barrier on the hair, helping to retain moisture. Found in Big solid conditioner, it lightly coats and hydrates the hair without weighing it down, meaning you can turn up the volume.
Vetivert oil
Not only a grounding essential oil for the mind, vetivert oil has a reviving effect on the scalp and encourages cell regeneration. You'll find this deliciously earthy and smoky perfume in Curly Wurly, a rich coconut shampoo that deeply cleanses and defines ringlets to make you go coco loco for curls.
Violet leaf absolute
Perfume your hair with sweet, grassy-green violet notes to really turn heads. A spritz of Sunny Day hair styling spray will fragrance your hair and keep your locks sleek when the humidity rises. Violet's antiseptic qualities also make it a magnificent refresher for the scalp in Retread, a protein-packed conditioner that strengthens hair.
Wheatgerm oil
The best thing since sliced bread, wheatgerm oil is rich in linoleic acid which helps the skin to retain moisture and anti-inflammatory vitamin E which soothes the scalp. This wholesome ingredient can be found in Jasmine And Henna Fluff-Ease, a hair treatment that helps tame your mane by adding body, shine and strength.
Ylang ylang
A sweet, heady oil extracted from the flowers of the ylang ylang plant, this luxurious ingredient gives a rich, sensual perfume to the hair and has a balancing effect on the skin and scalp. Try it in Sunny Day anti-static hair detangler, for deliciously sleek and florally perfumed locks.
With nature's help, your hair is set to look and feel sublime, whether wash day is approaching or you've just had a bouncy blow! Explore our full haircare range here.